At this early stage in my business I was not ready to commit to the cost of pre-printed labels. I also wanted the flexibility of changing the label for specific products. I thought I'd share my experience here in the hopes that it will help others trying the same thing.
My first try were these printable fabric sheets from my local Staples ($13.96 for 5 sheets).
I thought they'd be perfect. Fabric. Ink jet printable. Sew on.
Well, the sew on part is a bit misleading. See up in the corner where it says iron-on or sew? These are iron on fabric sheets so they are backed with a thick, stiff plastic. Not exactly what I wanted to attach to my baby blankets. I could see where you might use these on something hard, like maybe paper scrapbooking, but not on fabric products. I didn't bother with a picture of the label because it was the feel rather than the look that failed here. To be honest I didn't even test the ink fastness because I knew this wasn't an option.
Next, I went out to Michaels and picked up a pack of these (about $23 for 10 sheets - make sure you have that 40% off coupon).
They did not have the silk so I couldn't try them out for a comparison.
These came out very well. The fabric is nice and soft and it fed through the printer very easily. The problems came with the setting of the ink. I first tried my label in black and red. Here it is straight out of the printer. Nice right?
And here it is after a vinegar bath to set the ink. Not so nice.
I then did a scrub test and the ink basically disappeared.
This was after waiting 24 hours for the ink to dry and heat setting them before the vinegar bath. I didn't take a picture after the scrub test because I was so discouraged.
I then tried the same sheets, but only used black ink. The results were certainly better. They survived the vinegar bath but again, the scrub test resulted in the ink almost disappearing.
At this point I was getting pretty down. So what does every crafter do in this situation? We google it! I had seen quite a few recipes for label fixatives so decided why not try it.
A quick trip to my local grocery store for alum, fabric softener (I don't use it) and freezer paper and I was ready to go. I already had washing soda from making homemade laundry soap. I followed this recipe from Lillipops Designs exactly how she wrote it so I won't go into those details here.
I decided to try some organic quilting cotton (white) and also some eco bamboo jersey (white). After soaking I threw the pieces into the dryer because I already had a load tumbling (and I was impatient to try the printing).
After ironing the fabric onto the freezer paper and cutting it to size it was simply a matter of loading it into the printer. Oh yeah, right, couldn't be that easy. The darn stuff jammed up inside the printer. So I tried it again - same thing. What to do now?!?
I went back to my cardmaking/scrapbooking days when I would tape things to cardstock to feed through the printer. I placed a strip of double sided tape as close to the edge of the cardstock as I could (the end where it would feed into the printer) and carefully placed the fabric over top. Worked perfectly!!
Well, almost. The jersey did not work. The ink did not adhere at all and just smeared right off. I should note that I use a Lexmark printer with regular ink so you may get better results if you have a different printer/ink.
But the cotton was looking good. After waiting just hours (not days) I heat set the sheet then popped them into a vinegar bath. Eureka - they are still dark! After a soak, rinse and one more heat set they still looked like this:
Now those are nice. (The print is actually much crisper in real life.)
For an idea of how much ink washed out of the storebought sheets versus the handmade sheets, here they are side by side:
Now I have fully customizable, make anytime I want, pretty tags that will last. I have put a test label through 8 washes so far with very little fading.
And what did I learn? Making it yourself really is better (and cheaper).
In fact, I've already changed the design so thank goodness I didn't order something expensive.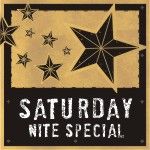 Linking up with Donna's Saturday Nite Special party.