The awesomeness that is the Internet never ceases to amaze me. For example, today I'm quilting a baby quilt that's a modified log cabin pattern. I decided I wanted to outline each square, but knew that turning the corners might be problematic as the back is solid so any wonkiness would stand out. So I decided to machine sew the lines but then hand sew each corner. Although time cosuming, I actually enjoy the hand sewing and the control it gives me. What I don't like is the constant threading of the needle. I just started and already I was feeling a little cross eyed.
A corner ready to be finished
A quick google search and voila - a way to sink threads without constant needle threading.
One side tied - ready to sink the ends
This method is brilliant. Essentially, you double thread a needle with a bright coloured thread (okay, it doesn't have to be bright, but it does make it more fun) but don't pull it all the way through, leaving a loop.
Thread ends placed inside the loop
Push the needle through the quilt as if you were burying your ends but before you pull the thread through you place your ends through the loop and then draw them through together.
Loop pulling the ends out
It's all explained very nicely here by Art with a Needle - scroll down to Robbi's method.
One corner down, many more to go.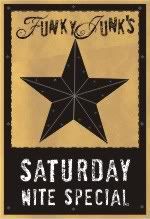 Edited to link up with Funky Junk's Saturday Nite Special.